THE LA SARDINA PATTERN EDITION
Another new edition of La Sardina after the very luxurious Caviar now comes the pattern!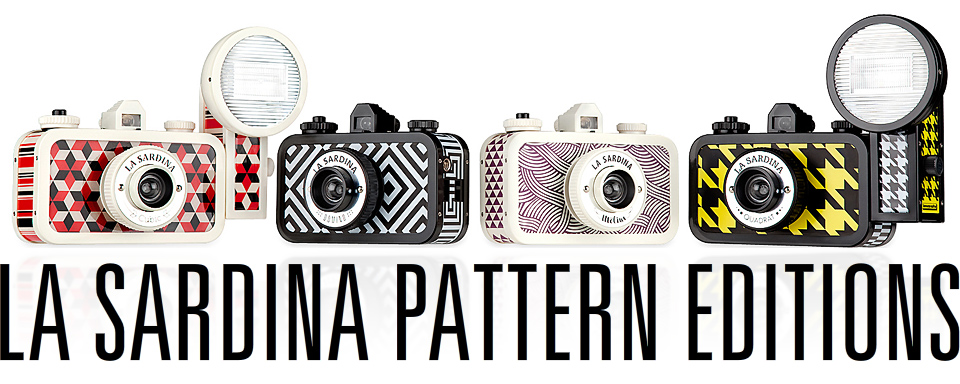 A little bit about what the pattern means:
·
Geometric Gorgeousness
: Four new La Sardinas to tickle your eye with classy patterns
·
Pattern Pals
: Domino, Möbius, Quadrat and Cubic will be your new eyecandy together with all new Photo Accordions
·
Sardine Can Camera
: Fine wide angle photography in a tasty fish can
Here comes another new edition! Did you expect this? Within a year La Sardina has now extend to 10 versions! I am so spoiled with choices now!
Our La Sardina is a fashionable little fellow who can wear really everything. But as a true fashionista, La Sardina never wears one style twice. After celebrating adventurous sailor fashion, we gave her a new very visual look that will rock the catwalks all over this planet. Domino, Möbius, Quadrat and Cubic are the names of a new collection wearing classy patterns all over their body. While La Sardina's outfit changed, her inner values are still the same: An ultra wide-angle plastic lens, 35 mm film and super easy handling are completing this fashionable package for analogue lovers.
If only La Sardina comes with strap for easier showing off =P
Playful patterns never go out of season! Domino comes in a black and white op art pattern to please lovers of elegant extravaganza. Möbius will entrap you in his purple and yellow web like lines while Quadrat cherishes the prototype of classic patterns: dog's-tooth check. Cubic is for the ones who love to switch between stripes and diamonds in white, black and red. To complete this fashionable package we designed all new Photo Accordions with matching patterns to keep your photos safe in style. Whatever pattern you chose, you can be sure to be the center of attention at every fashion show!
The verdict! Fashionable and retro!
When we introduced La Sardina in summer, this little fishy pal swept Lomographers all over the world off their feet. Sweet design combined with super easy handling make La Sardina the perfect every day camera that captures wide angle pictures wherever and whenever you want. Its plastic wide angle lens enables pros and beginners to shoot beautiful Lomographs easily. No need for long explanations at your local lab, the processing is really easy due to the regular format of the shots. Accompanied by Fritz the Blitz, our most sophisticated flash, La Sardina will make your photos shine.
Waiting for the fish to drop by~~
Film Type: Standard 135 roll film
Angle of view: 88 degrees
Focusing range: 0.6m - infinity
Shutter speed: N (1/100), B (bulb)
Multiple exposure: independent MX switch
Flash contact: Unique Sardina flash contact
Flash Sync: first curtain X-type synchronization
Tripod socket thread: Standard ¼" tripod socket
Cable release: Universal cable release socket