I participated in the biggest mask review ever organize by Tammy and thanks to her I got myself 3 packs of TT mask!

I tried on the mask and it's really moisturising to my skin! I must be the last blogger to blog about this. ><

The Mask I got was the
Brightening Cooling one and it was cooling too that leaves my skin soft, brighter and cool!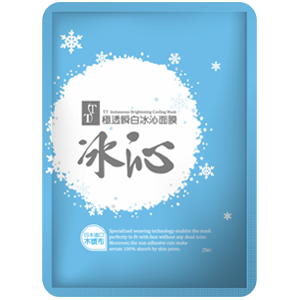 Cooling, Moisturizing, Smoothens Skin, Whitening
STAY-C 50, m-Tranexamic Acid, Calendula, Menthol, Hyaluronic Acid, DI Water
STAY-C®50 reduces dark spots and slows down formation of melanin to allow even toned finish for the skin and brings back clarity. It is one of the best active ingredients for skin whitening, and builds a blockage for UV rays.
m-Tranexamic Acid is medically used in prohibiting bleeding issues. It is proven to have highly effective result in reducing melanin growth and pigmentations. m-Tranexamic acid is capable in reversing and inhibiting dark spots to fight mild inflammation.
Hyaluronic Acid is non-toxic that serves as the most important space filling substance in the human body. It holds water in the skin to keep collagen hydrated and provides a youthful look. Hyaluronic Acid has moisturizing capabilities on skin's structure.
Menthol is derived from peppermint. It is used as a cooling agent and fragrance to give a refreshing and soothing sensation to the skin.
Background of TT Mask
Timeless Truth Malaysia
(TT Mask Trading) was incorporated in August 2012 to support Timeless Truth's expansion plan in Asia.
We are Timeless Truth brand representative in Malaysia
. Therefore, kindly contact us if you would want to verify the status of the sellers to avoid counterfeit products. Love your skin,
do not support counterfeit products
as it will damage your skin in the long run.
All of Timeless Truth products are duly notified and in compliance with the requirements of Malaysia Ministry of Health (MOH) and safe to use.
The humble beginning of the "
Timeless Truth
" brand started back in
1988, France
. Ever since then, TT has been playing an active role in the international trade of skin care products arena. Timeless Truth has taken the market paradigm
shift from France to Taiwan in 1998
.
New products are invented every year in response to different target groups' market requirement. With a wide selection of skin care products that cater for different needs from the consumers (
facial masks, eye masks, neck masks, foot masks and breast masks
), Timeless Truth is definitely the
preferred brand of choice
.